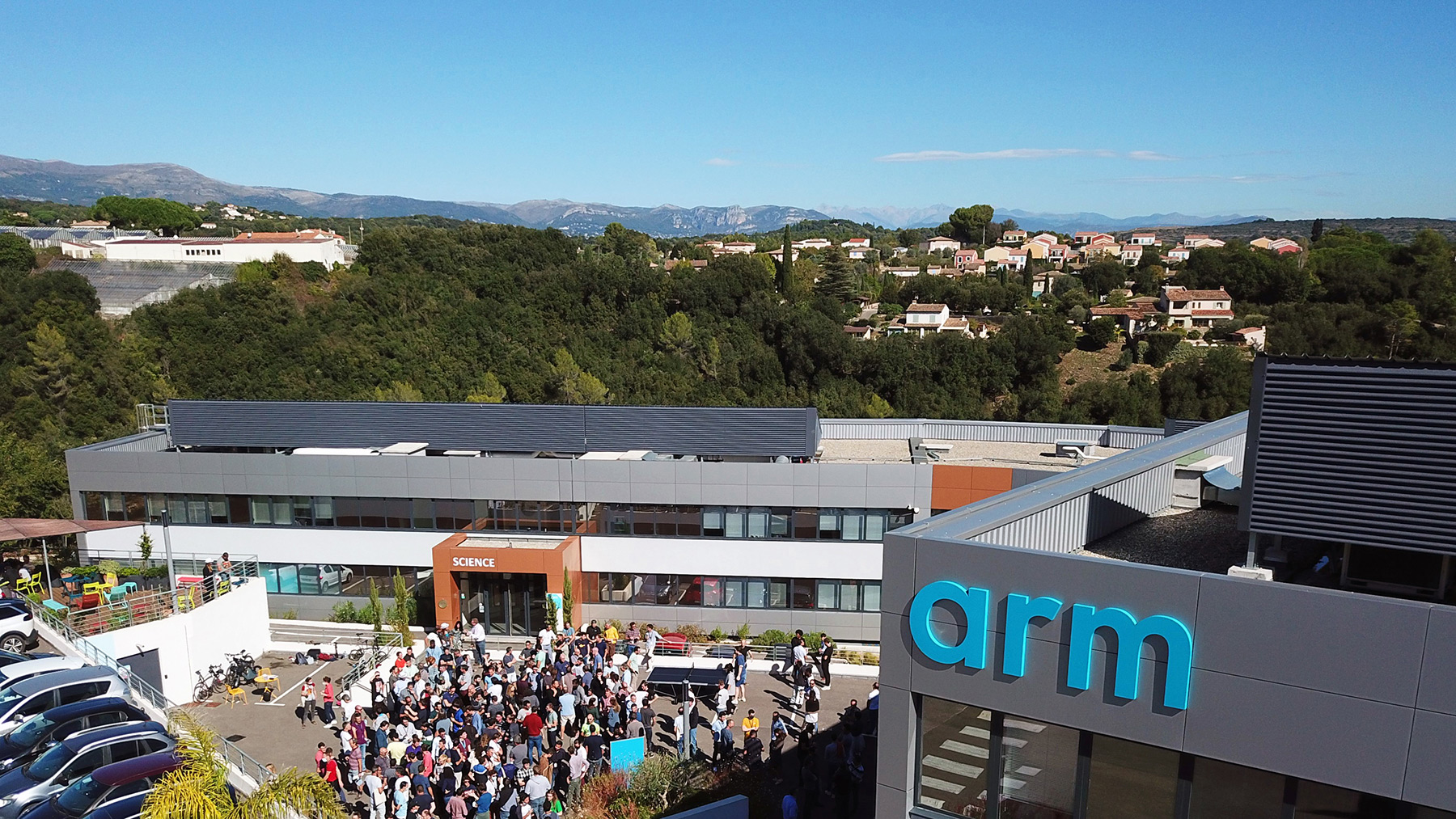 Award Winner 2022
Nice, France
The 2022 Livable Buildings Award has been awarded to Arm France's recently opened campus, located in the Sophia Antipolis technology park in the south of France. The project is the first award recipient located outside of North America since the award program was launched. Guided by voluntary building standards, the project achieved impressive levels of certification at the levels of LEED Gold and WELL Platinum. The positive project results were also confirmed by feedback from the building users as measured by CBE's Occupant Survey, and such performance is a prerequisite to qualify for the award. In fact, the survey responses put the building in the top scores across all categories measured in the survey, compared to hundreds of other buildings that have used the survey. Read more in CBE's announcement about this year's award.
The project consists of two buildings located at a campus that has been styled after other global innovation centers, such as those found in California's Silicon Valley. The project was developed to spur innovation and collaboration between groups, to support internal and external events, and to provide a work environment that enables a work-like balance. The design was informed by company culture, so rather than assigning offices to individuals, spaces have been tailored to various work activities. The office spaces offer numerous amenities, including proximity to quality window views to the surrounding live oak forest, on-site fitness and dining facilities, and outdoor spaces that allow employees to enjoy the French Riviera climate.
Due to interruptions from the Covid-19 pandemic, the move-in that was initially planned for 2020 was substantially delayed. However, the site is currently among the most highly occupied among all of Arm's global locations, with general in-office occupancy at around 50 percent, and as much as 65 percent at peak times. Read about working at Arm France on the company career page.
The building systems have been designed to provide high levels of comfort and air quality, with smaller thermal control zones and a dedicated outside air system, so that thermal control and ventilation may be controlled separately. The all-LED lighting is controlled with the Enlighted system that also responds to occupancy. Together the new campus has reduced energy use by 55 percent compared to older building on site. Additional sustainable features include water-efficient plumbing fixtures and landscaping, e-bikes and electric car charging, a green cleaning program, and renewable electricity procurement.
Read the project award submittal for more information.
Project Comments
"The challenge that we set ourselves, to meet the LEED and WELL standards concurrently, felt like climbing Mount Everest at times. But wining the CBE Livable Building Award feels like hoisting our flag at the top of the mountain, and I am grateful for the amazing work done by the project team that led to this achievement. I believe we have reached the initial goals that we set out and made our building a place to attract and retain talent, which is more than ever critical to Arm's success!"

—- Christophe Frey, VP of Regions, and General Manager of Arm France