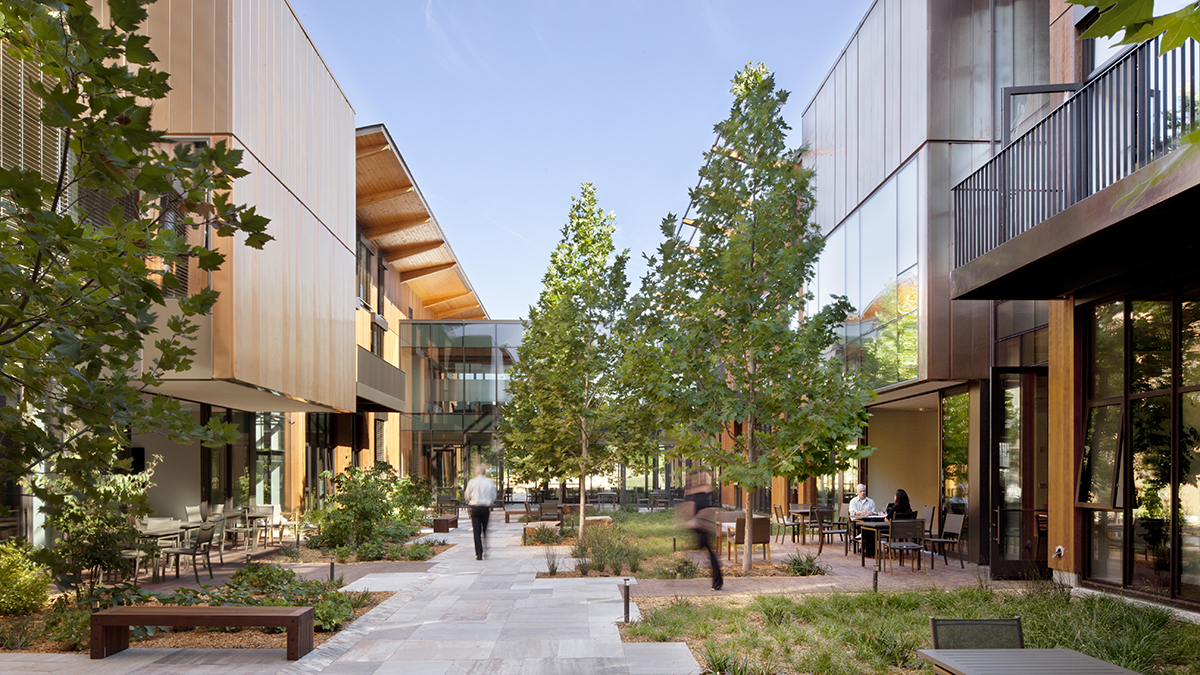 Award Winner 2014
Los Altos, CA
The headquarters for The David and Lucile Packard Foundation brings staff, grantees and partners together to solve the world's most intractable problems. For two decades, as the Foundation's grant-making programs expanded locally and internationally, staff and operations have been scattered in various buildings–this project brings them together in one primary location to enhance collaboration on their many projects. The new design has half the staff in open workstations, and half in small private offices, supported by a diverse range of shared communal meeting and social spaces.
Outstanding Features
The project vision was to not only design a sustainable building, but to also advance the foundation's sustainability as an organization. The integrated design team, including transportation planners, sustainable food experts and the foundation's newly formed Sustainable Task Force, began with an assessment of the foundation's overall GHG inventory. Staff commuting, travel and building energy use each represented about a third of their emissions. The team then developed strategies to address each of these sectors, to reduce their entire carbon footprint by 80 percent by 2050. The building received Net Zero Energy Certification through the International Living Future Institute (ILFI) for its achievement of net zero energy use in its first year of operation. It is the largest net zero energy certified building to date in ILFI's program.
Survey Results
One aspect of the IEQ survey results is that the project team then took the feedback from the occupants to go back and resolve the problems they brought up (such as too much glare and not enough daylighting), so that the building could operate at maximum comfort.
Project Comments
"The overall design and planning direction, material and furnishing palette and site design was very impressive as it seems to represent not only the environmental aspirations of the project but also demonstrates the very nature of the organization. The design seems to wear sustainability on its sleeve which only helps to further its environmental and social goals."
"I appreciate the care that the project team has taken in remedying issues that were addressed by the occupants. The commitment to the additional fee associated with post occupancy monitoring and correction of assumptions in the design is an admirable approach and one that should be more prominently featured."
2014 Honorable Mentions
DPR Construction Southwest Headquarters

Phoenix, AZ

The net-zero Phoenix Headquarters of DPR Construction repurposed an existing building, keeping much of the original fabric as part of the sustainable approach. The building exhibits dozens of innovative low energy design ideas, including roll-up doors, ceiling fans, photovoltaic panels, LED lighting, a living green screen, and a "solar chimney" with high-level operable windows and evaporative cooling towers for passive cooling.

One juror summed up the project nicely: "The use of various passive design techniques in a harsh climate is laudable and they've been able to do so while still creating interesting and different types of spaces adjacent to the outdoors."

Project Team

DPR Construction

,

Owner/General Contractor

SmithGroupJJR

,

Architect, Mechanical Engineer, Electrical Engineer

DNV GL

,

Sustainability Consultant